The National Immigrant Women's Advocacy Project (NIWAP) working in partnership with the National Council of Juvenile and Family Court Judges (NCJFCJ) on a State Justice Institute (SJI) funded project is pleased to invite you to participate in the National Judicial Network: Forum on Human Trafficking and Immigration in State Courts ("The Network"). The NJN provides a forum for judges to engage in peer-to-peer learning sessions with judges from across the country, participate in webinars, communicate with other judges in a members-only confidential email group, access topic-specific publications, and attend future in-person trainings on issues that arise in state courts involving human trafficking and immigrant victims. NJN sessions are intended to help judges learn more about these complicated issues and, consequently, improve access to justice for human trafficking and immigrant victims of domestic violence, child abuse, sexual assault, and other crimes.
View the National Judicial Network Outreach Letter (Updated December 4, 2023)
Read about the benefits for judges of joining the National Judicial Network in the State Justice Institute's Newsletter.
If you are a judge, tribal judge, magistrate, commissioner, or other judicial officer and you are interested in joining The Network, please register through this link: https://www.surveymonkey.com/r/VGY9VJM.
Judicial Training Materials
In response to requests by and questions from state court judges, NIWAP, with support from the State Justice Institute, has developed bench cards, bench books, and a wide range of training tools that make readily available to judges and court staff legally correct information about immigration law and its implications for state family, civil, and court cases involving child and adult victims of human trafficking, domestic violence, sexual assault, child abuse, neglect, or abandonment, and stalking.
Judicial Peer-to-Peer Sessions & National Webinars
Join the NJN's monthly virtual learning sessions on the first Tuesday of every month from 3 – 4pm Eastern. Each session is labeled as a members-only peer-to-peer forum or a national webinar open to a larger audience, with topics set in advance by the NJN's steering committee. Below you'll find links to materials, PowerPoint presentations, and resources from the previous sessions, organized by topic, as well as upcoming dates/topics for the fall sessions:
Upcoming Sessions
December 8, 2023 (National Webinar) – Let's Put Science First: Assessing Predatory Helpfulness and Coercive Control to More Accurately Understand Domestic Abuse and Sex Trafficking
January 23, 2023 (National Webinar) – USCIS Discusses Adoption of Foreign-Born Children
February 6, 2024 – TBD
March 5, 2024 – TBD
April 2, 2024 – TBD
May 7, 2024 – TBD
June 4, 2024 – TBD
National Judicial Network
Trauma, Victim's Needs, Effect on Testimony, and It's Impact on the Courts
Human Trafficking: The Court's Role
Child Victims of Human Trafficking Including Immigrant Victims
Immigration Protections for Crime Victims
Humanitarian Immigration Relief for Victims – Forms of Relief
Special Immigrant Juvenile Status, U and T Visas – Role of State Court Judges
How Department of Homeland Security Policies Impact Courts
Refugees Protections and Legal Options for Victims in Refugee Families
Protections for Immigrant Victims in Family Court
Adoptions of Foreign Born Children – What State Court Judges Need to Know
Promoting Access to Justice
Domestic Violence, Stalking, and Child Abuse
Improving Access to Public Benefits and Services for Immigrant Victims of Human Trafficking, Crime and Abuse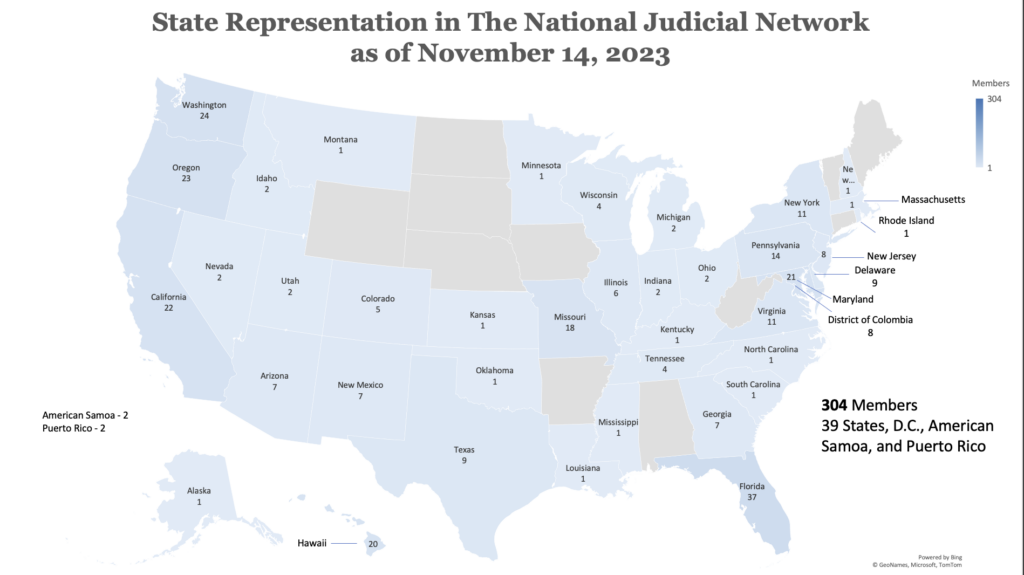 National Judicial Network Steering Committee Members
Leslye E. Orloff
Adjunct Professor and Director, NIWAP, American University, Washington College of Law
Hon. Abigail Aragon
Fourth Judicial District Court of New Mexico
Hon. Susan Breall
Superior Court of California, County of San Francisco
Hon. Rosemary Collins (ret.)
Former Presiding Judge, Family Division, 17th Judicial Circuit Court, Rockford, Illinois
Hon. Lori Dumas
Philadelphia Court of Common Pleas, First Judicial District of Pennsylvania
Hon. Katherine G. Essrig
Circuit Judge, Unified Family Court, Juvenile Dependency, 13th Judicial District, Hillsborough County, Florida
Hon. Ramona A. Gonzalez
Presiding Judge, Lacrosse County Circuit Court Lacrosse, Wisconsin
Abigail Hill, Esq.
Child Welfare Child Welfare/Human Trafficking Program Manager, Administrative Office of the Courts, Maryland Judiciary
Hon. Melissa Hemstreet
Kitsap Superior Court Judge, Girls Court, Kitsap County, Washington
Hon. Lora J. Livingston (ret.)
Presiding Judge, 261st District Court, Travis County, Texas
Hon. Barbara Mack (ret.)
King County Superior Court, Seattle, Washington
Hon. Susan F. Maven (ret.)
New Jersey Superior Court – Family Division, Juvenile Human Trafficking Diversion Program
Rose Patterson  
Chief of Education and Improvement, Office of the State Court Administrator, Tallahassee, Florida
Hon. John Romero (ret.)
Second Judicial District Court, Children's Court Division, Albuquerque, New Mexico
Hon. Toko Serita
Acting Supreme Court Justice, Queens Human Trafficking Intervention Court, New York, New York
Hon. Gustavo Sztraicher
Judge of the Superior Court of California, County of Los Angeles
Hon. Mary F. Weir
Associate Circuit Judge, 16th Judicial Circuit Court of Missouri, Kansas City, Missouri
Hon. Loretta M. Young
State of Delaware, Family Court, Wilmington, Delaware
Cc:
Joey Orduna Hastings
CEO, National Council of Juvenile and Family Court Judges
Hon. Victor Reyes (ret.)
Judge-In-Residence, National Council of Juvenile and Family Court Judges
Lynelle Hartway, JD
Program Manager, National Council of Juvenile and Family Court Judges